Artist Shawn Haring has been working leather since 2018. Shawn is an avid fan of the Renaissance Faire scene and specializes in high quality products made for fellow renaissance goers.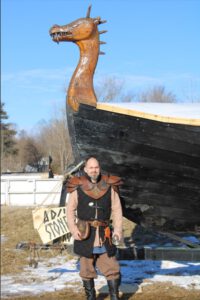 He originally became interested in making leather products because he could not find what he wanted at the faires, so he decided to make the items himself. There were too many mass-produced leather items so he decided that only he could not only customize pieces for himself, but also make sure the quality exceeded that of other shops.
Some of Shawn's creations include hot sauce holders (for Bloody Mary's!), flask holders, skirt hikes, mug holders, unique pouches and braided bracelets for all ages.
We begin showing Mr. Haring's work at the Mid Michigan Enchanted Forest. July 23-24, 30-31 2022. Stop by our pavilion to see some of his creations.
You can find examples of Shawn's work on his Donar's Oak Gallery page.