During our recent trip to abroad, we had the pleasure of speaking with a few local artists there about their trade. Pura Vita is the motto down there. It translates to "Pure Life." The people have a great sense of living in harmony with their environment and much of their artistry reflects that.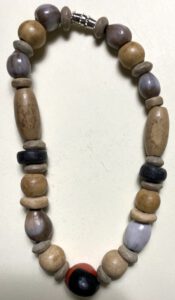 We've brought back some pieces that reflects this.
We have a collection of Bracelets, which are hand made using native hardwood, seeds, and stones from the area. The beads are polished and strung simply. Each bracelet is different but all have a calm earthy tone to them and would look good worn by either men or women.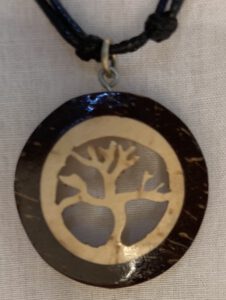 Secondly, we have brought back some pendants on a simple cloth cord. The pendants are made from the shell of coconuts. It comes in two styles: A tree, or a hummingbird. We watched the artist make these. He uses a hand saw with the blade replaced by a sturdy wire. The cuts are made by the friction of the wire against the wood. The featured image at the top of this post is the artist making one of these.
Donar's Oak is offering these items at an extremely affordable price. We are carrying them not only because we think they're beautiful and awesome, But also because it supports the local economy.
However, we don't have many! If you want one be sure and visit our pavilion early in the run. Once we're out we cannot simply phone the artist and pick them up. It will take another trip abroad, and that probably won't be until the 2020 faire season has concluded.
You can see these items for the first time in our pavilion at the Nordic Fire Festival in Charlotte, MI. Remaining stock can be seen when we're at Michigan Medieval Faire, in Lake Orion, MI. Then your next chance would be at Mid Michigan Renaissance Festival's Enchanted Forest in Vassar, MI.