We are happy to welcome our latest artist- Michael Overton.
Michael Overton humbly describes himself as a primarily self taught tinkerer and artist. We know this is a modest description because he holds a Bachelor's Degree in History from Michigan State University, with an emphasis in historical preservation. Michael has spent time on archeological digs, and has been creating historically inspired art since childhood.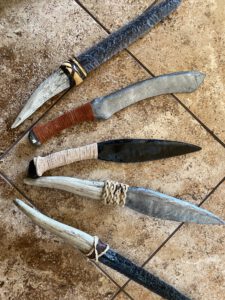 He is a talented graphic artist, working with several advanced technologies, however costuming and props is one of the few things that lets Michael combine his many interests; from anthropology and history through sciences, sculpture and other visual arts. Michael has recently increased his artistic focus toward in creating props and accoutrements which is how these fine items came to be.
Michaels introductory line will be a set of primeval daggers. They are prop pieces that are realistic enough be to displayed, as well as safe and light enough to be worn at events. Each is hand made, molded from a clay sculpt master then finished with leather and natural cord. Handles are from molds taken from real antler tips.
If you have any questions on Mr. Overton's work or are interested in a private viewing of any piece, please contact us to arrange the details