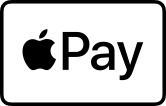 Apple Pay is now available at the Donar's Oak Pavilion
Apple Pay is the easiest and most secure way to purchase items at Donar's Oak. Simply tap your iPhone or Apple watch and complete your purchase without the need to dig through your things to find cash or your credit card. Remember, when you use Apple Pay in combination with AppleCard you'll get a 2% for your purchases at Donar's Oak.
Don't have Apple Pay? That's OK too. We're now able to accept chip cards and contactless other types of NFC payments as well.